Balloons Over Albuquerque
October 2002
Page 11

The Trip Home
Our departure from Albuquerque took us along a very familiar route. We will have to return another time to see more than we were able to get to on this visit. It was shortly after noon, as we were on our way out of town, when we drove by the scene of an accident that included an emergency vehicle. This was the third such clash of vehicles we saw on our visit to Albuquerque.
With our somewhat late departure, it was good that we didn't need to travel very far before finding a place to spend the night. The view, along the way, was the usual desert scenery that has become so well known to us. The drive west was fairly uneventful for us, however, we saw the result of an unpleasant event for somebody. It looked as if a travel trailer had come loose from its tow vehicle. As we passed the scene I snapped a picture of the cleanup process going on in the median strip.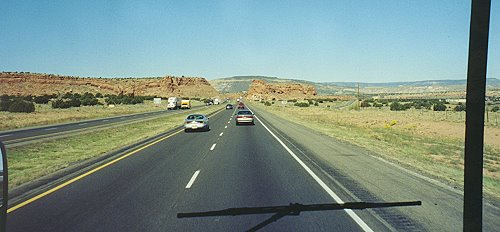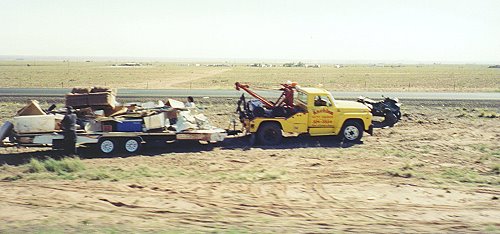 Along with the unpleasant, we also saw a humorous looking travel trailer. It appeared to be a very creative, homemade RV that looked like a small rural church on wheels. It was constructed our of wood and shingles just as if it was meant to be a land based structure. The entry was on the back of the little building with a Christian cross mounted above the door. I thought that this might actually be the church of a circuit riding preacher who ministers to small groups of people working and living in remote locations.
The afternoon seemed to change to evening very early. I think this was a result of a routine drive across the desert and our late departure time from the Hot Air Balloon Fiesta. With no need to travel far, we decided to find a campground for the night in Flagstaff.
The campground of choice was on the west side of town located on the Old Route 66. Our stay in the Flagstaff campground was quiet with nice views all around us. It was nice to just kick back and watch TV for a while.
Now that we were no longer getting up at "Oh Dark Thirty" in the morning to get on the balloon field, getting up at 6:30 felt as if we had slept in. Because we were so close to our destination for the day, we took our time getting around. Kay fixed a nice breakfast for us consisting of eggs and sausage with hash brown potatoes. We normally don't eat a breakfast like this with the exception of once a month at our RV club gatherings. It was a great way to start the day.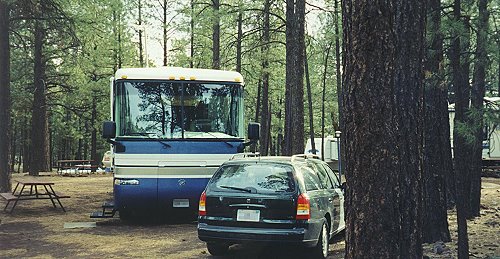 Our drive for the day took us to Laughlin with us arriving at about 2:30 in the afternoon. It didn't take long for us to set up camp in the Riverside RV park. We went to the Riverside Hotel to get a late lunch. Then it was off to play the slots. We sat down to a pair of progressive quarter slot machines. It took only $15 worth of quarters for me to get back all of my money. I figured I had enough, so I left the machine I was playing. Kay moved over to "My" machine and began what would be a long period of time spinning the reels
I went upstairs to look at the automobile collection. There were many vehicles that I could remember when they were new. It doesn't seem right to call a car an antique if I can remember when it was new. Oh well. I like to look at the really old stuff, machines that would have been new in my great-grandparents day.
This car museum also has a few items that are more unusual than old. For example, there is a one-off, 70s something, four wheel drive Cadillac sedan. It was special made for a friend of a high-level General Motors executive. The Cadillac body was mounted on a Chevrolet Suburban chassis.
I took a walk down by the boat dock to see if anything was going on there. Many of the casinos in Laughlin are next to the Colorado river. A ferry service will take people to other casino boat docks or across the river to a dock in Bullhead City. While near the dock I happened to look down in the water between the dock and the river bank. There I saw several large fish that I was unable to identify. Whatever they were, they looked big enough to give a fisherman a fight.
When I returned to the casino, Kay was still working the machine. She had a big smile however, it seems that she had won back the $20 she had put into the machine. I wasn't about to get her away from the machine, so I went to a movie. I saw the Robin Williams movie, "One Hour Photo."
After the movie I was able to convince Kay that we should go back to the motorhome. Maybe it helped that she had done very well, for a change, at the slot machine I had abandoned earlier in the day. We ended the day watching TV for a while.
When we left Laughlin we had a somewhat boring drive across the state of California. An example of how uneventful this part of our trip was, the most exciting thing I remember was driving by a very large feed lot. Another point of "excitement" was watching cotton being harvested and baled along the highway.
The distance covered was long enough that the sun had gone down while we were driving north on I-5. I felt that I didn't want to drive all the way home and try to put the motorhome away in the dark. So, I decided to stop for the night at the "Casa de Fruta RV Park" for the night. As it turned out, the campground was full due to the Renaissance Pleasure Faire being held on the grounds.
We were fortunate though, because just about the time I was going to try to find another place to spend the night, I was told that a couple of no-show campsites opened up. Even though it was dark, we still had enough time to kick back and relax. There was time for us to watch a movie on TV. Outside, occasionally a person walked by wearing an Elizabethan costume.
Being so close to home when we took off in the morning, it was a very short drive to get to our driveway. There I could park our motorhome and prepare to go to work the next day. A pile of mail was waiting for me to wade through. This was an end to a really great RV Fun Trip.
---
---
If you have comments or suggestions, please contact the .
Copyright 2003, RVFunTrips.com. All rights reserved.