Balloons Over Albuquerque
October 2002
Page 6

Our First Full Day
After the Dawn Patrol was complete, our group began to circulate among the crews, on the field, who were beginning to get their balloons ready to fly. At one end of the field, the larger commercial balloons were beginning to inflate. We were here to watch the lift-off of hundreds of balloons called, the "Mass Ascension."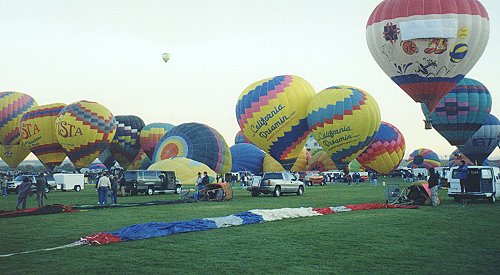 The Mass Ascension begins with the lift off of commercial passenger balloons
I found the people with the balloons to be very friendly and outgoing. We met a man and his team, as they were about to prepare for a flight. The pilot's name is Gary Moore. The name of his balloon is "Flashback". Read about the launching of Flashback on Page 7.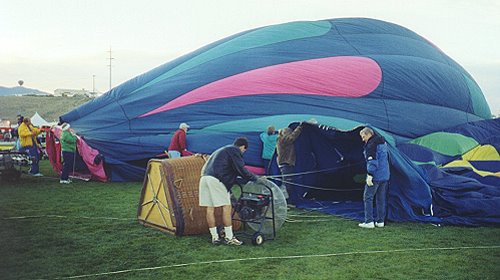 Two balloons undergoing cold inflation
After Gary's balloon was airborne, we continued to watch the ascensions taking place all around us. It was awesome; balloons could be seen in all directions. It was after all the balloons were up that it was very easy to see the box in action. Now we would have a short break before the target bombing competition began.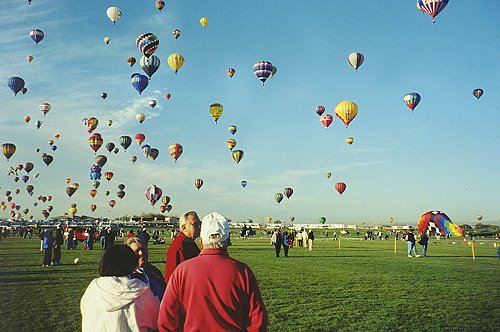 The Mass Ascension is well underway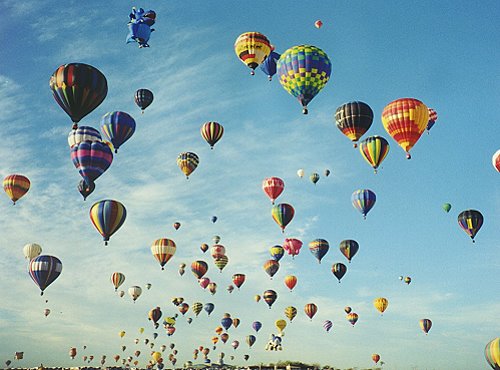 The Mass Ascension continues
This would be a good time to have breakfast. We all bought breakfast burritos, it was my first time to have such a breakfast. I thought this was a good, handheld meal. However, when I asked Tom about it, he said that it was a 5 out of 10. So, I will have to wait to find a really good breakfast burrito.
After breakfast we all went over to watch the balloonists drop projectiles on targets on the field. The projectiles were long blue or red steamers with a weight attached to one end. The targets were large playing cards. The balloonists were playing a form of poker.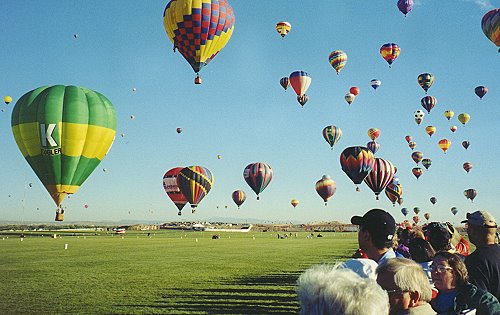 A crowd watches as balloons approach to play poker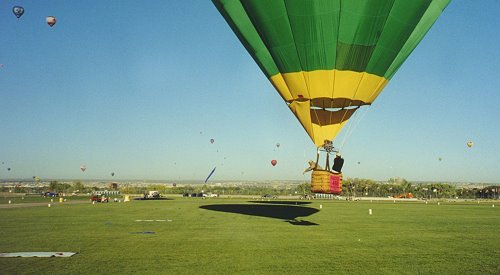 A crew member tries to hit a very large playing card
A balloon would approach as close as possible, then a bomb was dropped. Most missed the mark with only a few hitting the target. Some objects were dropped from very high while others were dropped from balloons that were only a short distance above the grassy field. The pilots had to depend on the air currents to get as close as a balloon could get to a target. A few balloons came in over the audience very close over our heads.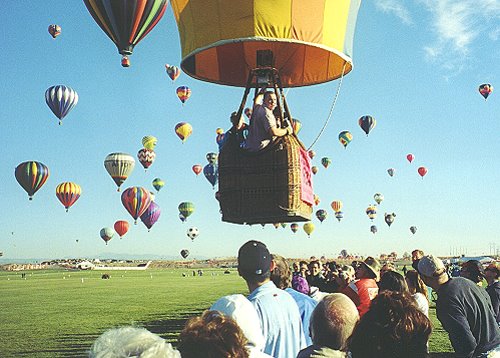 Some balloons missed the playing field and came close over our heads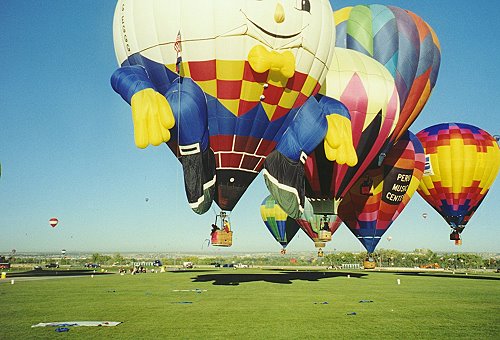 Even shaped balloons were playing poker
After the competition ended, Kay and I returned to the campground to watch the landings in front of our motorhome. The wind had come up making it difficult to land in the field in front of us. As a result, only a few balloons were able to land. One balloon came in very low over the motorhomes as it approached the landing field and missed Kevin and Tina's TV antenna only by inches. It was exciting to say the least.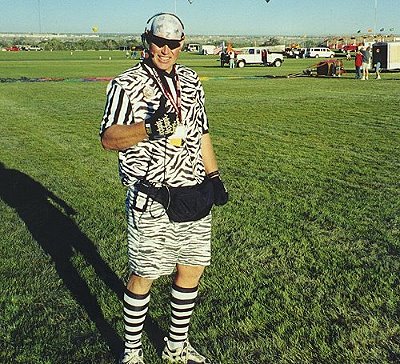 It is clear that this guy has fun in his role as a Zebra
After lunch, Kay and Nora wanted to find a stamp store that Nora had read about. Shortly after leaving the campground we passed by one of three accidents we saw that involved emergency vehicles. This time a fire engine was involved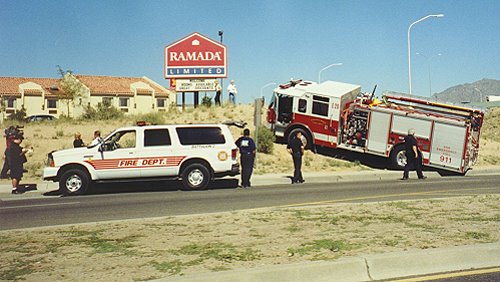 One of three emergency vehicle accidents we saw during our stay in Albuquerque
Tom did the navigating and successfully directed us right to the store. Next to the stamp store was a pawnshop. So, to kill some time while waiting for the women, Tom and I went to the pawnshop to look around. There was the usual collection of stuff found in a pawnshop. Some items had good prices while other things, mostly computer stuff, were way over priced. It appeared as if the proprietor was not familiar with the going value of used computer equipment.
Now, any of you who are familiar with rubber stamp stores know that stopping at one will often lead to another. And this time was no exception. When the women came out of the stamp store they told us they were told of paper store that we "Just had to visit." As we left the store, Tom once again was pressed into service as navigator to find the paper store.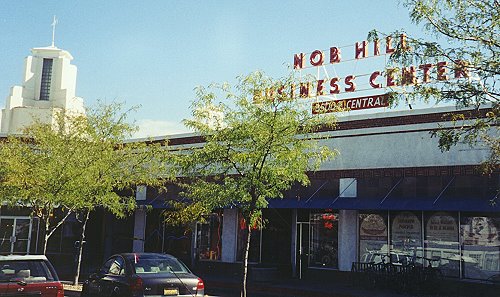 A neighborhood with a familiar name that had a familiar feel
Again, Tom did a great job of getting us to our destination. The paper store is located in the "Nob Hill" section of town next to Central Avenue. This street is the old historic Route 66 in Albuquerque. Tom and I walked around the neighborhood finding it to be an interesting place. The area has a very familiar look about it. I was reminded of places I've seen in San Francisco.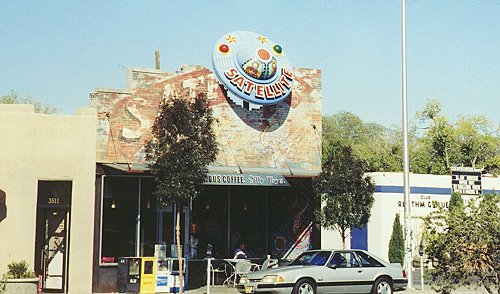 One of the more unusual buildings located on Old Route 66 in Nob Hill
On our walking tour we entered a few stores looking at a wide range of merchandise. In one store, I mention to a young woman behind the counter that the area reminded me of San Francisco. The woman cheerfully said that she came from San Francisco and that she liked it here because it reminded her of home, but was less crowded. There was the Satellite Cafe across the street from us. The cafe is in an interesting building that looks as if a flying saucer has crashed into the structure. For a short time we waited outside the paper store for the women to finish their shopping spree.
When we left the paper store, we headed back to the Old Town section of town. There we walked the streets we missed on our first visit and checked out the little shops. From there it was home to grill some meat for dinner. We called it a day early, as we would be getting up very early in the morning.
---
---
If you have comments or suggestions, please contact the .
Copyright 2003, RVFunTrips.com. All rights reserved.