Maury Completes a Mission for Kay
A short time after Kay passed away Maury wrote an open letter to Keith Urban telling him how much Kay enjoyed his music and how much it meant to the two of them. Maury published the open letter on the Internet and made it available to the World. The sudden response was amazing and unexpected by Maury. He received wonderful messages from many parts of the world with an overwhelming number of responses from Keith Urban fans in the United States.
A little over a year after Kay passed away Maury had an opportunity to see Keith Urban in a special concert in Nashville. When he first heard about the special charity concert featuring Keith Urban along with performances of a group of top country-western singers, he decided that he wanted to go because he really liked Keith's music. The name of the event was, "All for the Hall Charity Concert." Proceeds from the concert would benefit the Country Music Hall of Fame and Museum (CMHFM).
As soon as Maury heard about the event, he purchased a VIP package to see the concert. Just as he suspected, the special packages (only 12 top packages were offered) sold out very quickly. Then a hotel room in Nashville was reserved and airline tickets were purchased. Part of the excitement was that there was going to be an opportunity to have special tours, a special dinner, a group photo with Keith and a meet-and-greet with the country music stars. One of Keith's fans suggested that Maury take a printed copy of his open-letter to hand to Keith.
Maury arrived in Nashville the day before festivities were to begin. However, the next day he was very excited when he arrived at the first event; a special dinner in the rotunda of the CMHFM. In attendance were Keith's producer, one of his co-writers and the Director off the CMHFM. After the dinner there was a tour of the Blackbird Recording Studios where Keith recorded his music. Maury found the studio tour very interesting, especially seeing all the technology involved in the music business.
The next day, before the concert, Maury was given a parking space in the VIP parking lot where he parked his rental car among the very nice cars of the stars. It was a short walk to the concert venue. The concert was amazing with so many well know and popular country music stars performing just a few feet away from Maury in is front row seat. Right next to Maury was a television video crew taking video from the concert to be shown on TV the next day.
After the concert, the VIP package included tickets to the after-party where the stars were supposed to show up. As it turned out, only a few showed up with Keith coming in after the others, A group of fans crowded around Keith, all jockeying for his attention. Maury waited at the edge of the group as hoping he could have a private moment with Keith.
After a while the crowd began to dissipate, however, Keith began to walk away down a hallway that would take him out of the building. Maury stepped forward and said, "Keith, do you have a minute?" Keith turned around and came back toward Maury while Maury walked toward Keith. At this time Maury told Keith about how much his wife, Kay, loved his music and how she passed away with Keith's CD playing in the background. Maury then told Keith that he had written an open-letter to Keith that was published on the Web. As suggested by a friend, Maury handed a printed copy of the open-letter to Keith.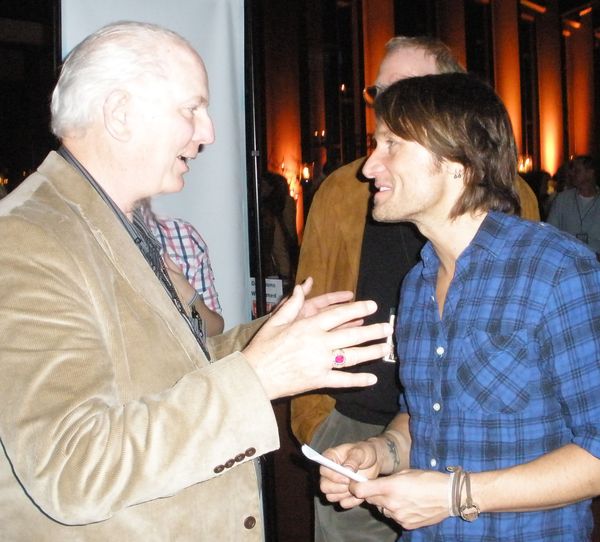 As Keith turned to walk away, Maury said, "Tonight my wife is looking at you through my eyes." Keith turned back to Maury and gave him a hug with not a word said. This was the kind of hug Maury had received from other people as their way to express their sorrow for Maury's loss. Suddenly Maury felt as if he had just completed a mission for Kay. It was at this time that Maury felt a bit of closure as if the longest and most important chapter in the story of his life had come to an end. This turned out to be a life changing experience for Maury.
At this time Maury found that he was now looking to the future albeit a trip into the unknown. Maury and Kay had been married for almost 47 years. They had been high school sweethearts and married soon after Kay graduated from high school. Their 49 years together was a true love story.
---
---
Copyright 2019, Maurice Lambert. All rights reserved.