Memorial Day Weekend 1999
Bethel Island, CA
by Maurice Lambert


Trip Summary
Normally Kay and I don't like to venture out in our motorhome on major holiday weekends. Whatever our destination in the past, there would be crowded conditions and a lot of noise. But on this Memorial Day weekend of 1999, as guests of Tom and Nora, we really had a fun and restful time away from the hubbub of everyday life. The location of their boat dock provides a peaceful view of the water with occasional glimpses of wildlife just a short distance away. We were treated to the antics of river otters.muskratss, and a wide variety of water birds. We were also in the company of very nice people, which always adds to a pleasant experience. Fred expressed it very well in his note below. If the original document is difficult to read on your computer screen, see the transcript of Fred's hand written page below the original.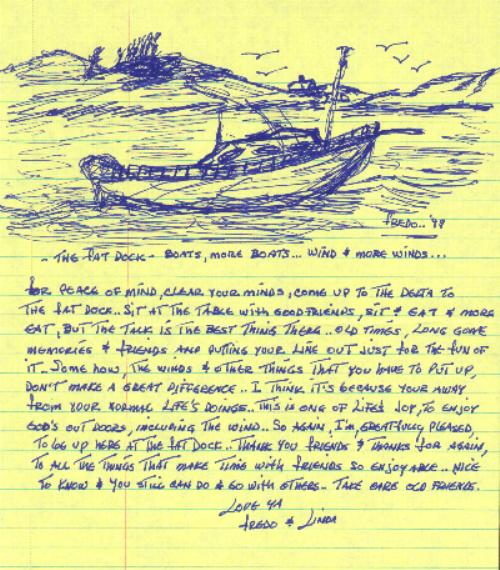 - The Fat Dock - Boats, more boats ... Wind & more winds ...
For peace of mind, clear your minds, come up to the Delta to the Fat Dock .. Sit at the table with good friends, sit and eat and more eat, but the talk is the best thing there .. Old times, long gone memories and friends and putting your line out just for the fun of it .. Somehow, the winds and other things that you have to put up, don't make a difference .. I think it's because you're away from you're normal life's doings .. This is one of life's joys, to enjoy God's outdoors, including the wind .. So again, I'mgratefullyy pleased, to be up here at the Fat Dock .. Thank you friends and Thanks for again, to all the things that make time with friends so enjoyable .. Nice to know and you still can do and go with others .. Take care old friends.

Love Ya


Fredo and Linda
---
If you have comments or suggestions, please contact the .

I do not claim the copyright of the poem written by Fred.
©1999, RVFunTrips.com. All rights reserved.